Beijing Hongzhou Wen Ding International Learning and Consulting Co., Ltd
Founded in 2013, as a Beijing-based company with global perspectives, Hongzhou Learning (HZ) has been committed to the research, practice and development of international education. Adhering to the corporate spirit of "Integrity, Innovation, Profession and Efficiency", HZ has successfully built a bridge between domestic and foreign partners for high quality mutual cooperation and provided comprehensive international education services. At the same time, HZ has been deeply involved in the field of international education for nearly 10 years, and has accumulated rich experience in international cooperation and educational services.
Under the national guidance of "Encourage schools of all levels and types to carry out various forms of international exchanges and cooperation to improve the internationalization level of a Chinese education, and cultivate a large number of international talents" , HZ has built a solid platform of educational exchanges and cooperation between China and foreign countries. At present, HZ actively carries out study abroad, study in China, overseas campus establishment, college-enterprise cooperation, international education and cultural exchanges, MOE joint education program, teacher and student training, etc.
Following the internationalization principle of "bringing in and going out", for the internationalization of Chinese education, in 2022, HZ launched the SNAEIA (Sino-North Africa Education Innovation Association)" together with domestic and foreign institutions of higher education, scientific research institutions, and overseas Chinese enterprises, this aimed at boosting higher education cooperation and exchanges between China and North Africa. At the same time, under the framework of CEEE (Chinese + Education + Exchange + Employment), HZ is actively carrying out international cooperation between universities and institutions of China and abroad via Overseas Campus Project under the support of foreign education authorities and employment departments.
In response to the Initiative of the Ministry of Education of the People's Republic of China on "Promoting the Joint Construction of the "Belt and Road" Education Action, HZ actively promotes the common prosperity of the "Belt and Road" education. At present, HZ has established comprehensive cooperative relations with more than 50 institutions of higher education in Tunisia, Morocco, Malaysia, Russia, Belarus, the United Kingdom, the United States, and Australia. HZ has provided international services to nearly 100 colleges and universities in China. At the same time, HZ received high recognition and supporting from the Beijing Foreign Affairs Office, the Tunisian Monastir Government, the Belarusian Embassy, the Bulgarian Embassy, the Polish Embassy, the Moroccan Embassy etc. and other institutions.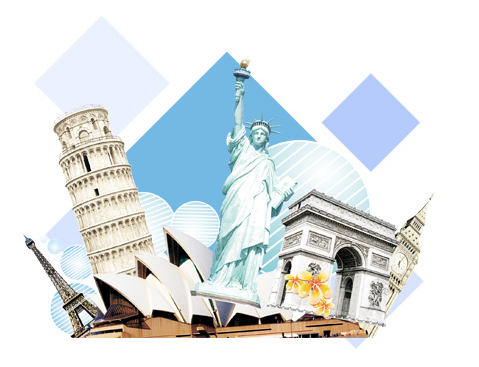 OUR TEAM