Study in China.
Studying in China has been a continuous trend worldwide with international students. In 2007, the statistics from the Ministry of Education in China reported that more than 500,000 international students from 175 countries studying in China. Some may go to China for a short – term/ long – term exchange program, some others may go for the Chinese language/culture courses, some may pursue higher education, and so forth. More and more international students are arriving in China with different personal purposes, but we believe that the factors and reasons which motivate them to go here, to the land of panda will be the same.
For years, China has proved itself as the second largest economy by nominal in GPA in the world, and the first in Asia. With a rapid growth rate as over 10% in 30 years, it was rated as the fastest growing economy worldwide. This development will never stop and we believe in our country will grow bigger and better. Thanks to that, the labor market will always need a stable and big employment source, which means that graduated students will have a lot of opportunities for their career after the studies here. Especially, for international students who are capable of speaking English, their native languages and Chinese, job acceptance are secured in both local and international companies in China.
The foundation of Chinese culture and history has been found far before the BC. The traditional Chinese language, the philosophy like Taoism and Confucius, and other traditional customs are well – known in the word. Specially, after long and diverse history, Chinese ancient men have left so many historic and cultural sightseeing, as the most famous one is the Great Wall of China and The Tomb of Terracotta Army. All of these factors are a great interest for international students to come to China to combine their studies with the journey to explore rich Chinese history and culture.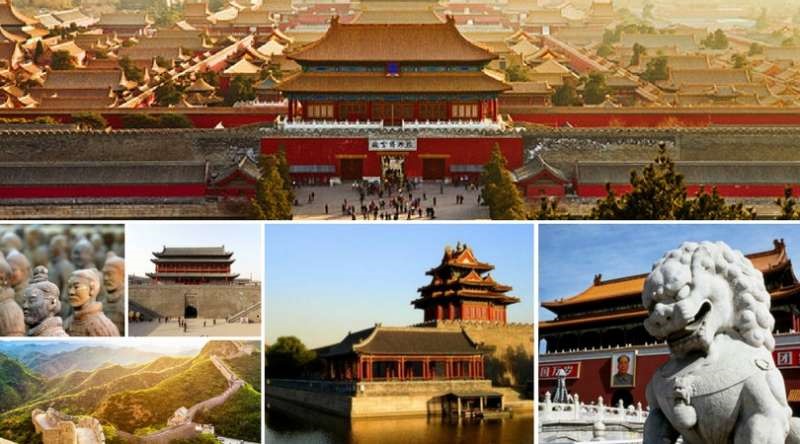 Studying Mandarin is another motivation for international students to come to China and practice with local day by day. Mandarin has been predicted and said to be the most common language in the world, therefore, students who are able to speak this language will receive a lot of opportunities for future career. Mandarin is a difficult language, but not an impossible-to-learn language, till students get enough motivation and have a good environment to practice. Having courses to advance Mandarin skills, studying subjects in Mandarin and communicating with local only in Mandarin are definitely the efficient way to improve the language skills.
For years, the government has been improving the teaching standards and the requirement for graduation. Therefore, students are receiving better support and better teaching methods from the university, but at the same time, they are required to work harder in order to be accepted by the university. This is not only a positive motivation for students to study but also a good way to help students be more qualified. Moreover, this new force assists the university to build a better studying environment for both Chinese and International Students, since everyone spends a great effort to achieve their studying goals.
Studying in China means having a new home with new Chinese and international friends. Every university in China provides a huge campus and number of activities to engage students together. The campus is not only huge, modern but also friendly and relaxing like a public park. Students can always have a small walk around the campus, get fresh air or even have a small picnic with friends inside in the campus. We understand that, financial factor is one of the most important thing that students consider before getting abroad. In this case, China is a great choice, if students are not well – financed themselves and are looking for good experience with limited budget. The tuition fee and accommodation fee paid to the university cost around 3,000 USD for one academic year, which is more affordable than American, European or Australian prices. Moreover, students get so many opportunities to get support from Chinese government or university scholarship, with free tuition fee, accommodation fee, and extra living allowance every month.
All above, we believe that the common reasons why students should consider moving to China for their higher studies. The experience will be priceless, unforgettable and unique that students will not ever regret after the good time in China. We wish you a very good performance in your current study or employment. Hopefully, we will have a chance to help you through the journey to China and during your stay here.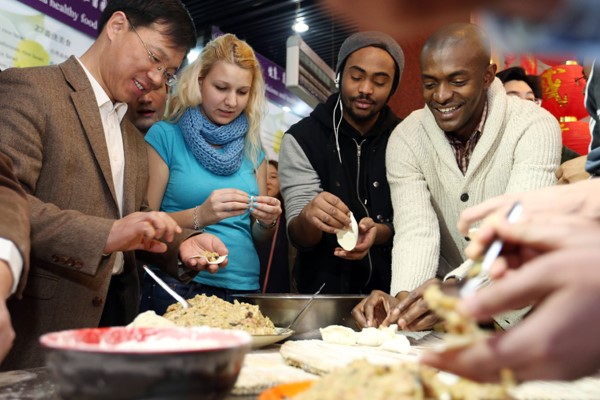 Forgein students make dumlings with Chinese teacher to celebrate Spring festival on feb 17,205

(Photo/Xinhua)
More than 375,000 students arrived on the Chinese mainland from around the world for studies last year, a 5.77 percent increase over 2013, the Ministry of Education said on Thursday.The 377,054 students came from 203 countries and regions, according to figures released by the ministry.
The numbers coming from Oceania and Africa last year increased dramatically, but those coming from the Americas fell a little.
A total of 6,272 students came from Oceania, a 32.24 percent increase year-on-year, while the number of those from Africa - 41,677 - rose by 24.93 percent from 2013. The numbers coming from the Americas dropped by 2.45 percent, but the ministry did not give a reason for this.
Some students said they came to study in China because they were attracted by the country's political and economic development.
James Mwita, 30, from Kenya, said: "China has a system that is working, and its political system is efficient. Its economic and social developments are impressive, and I hope my country can emulate them."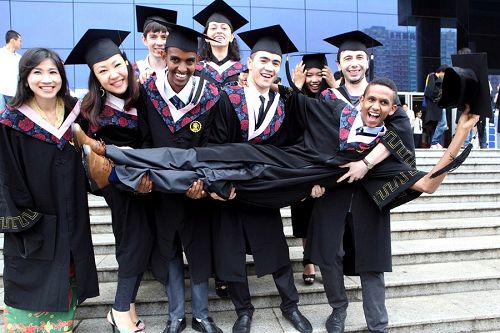 Foreign students majoring in Chinese celebrate their commencement at Xi'an Jiaotong University on July 7, 2012. (Photo/CFP)
Many international students also said they decided to study in China because of the significant amount of financial support from the Chinese authorities and universities.
Asheida Charles, 29, from the Caribbean nation of Grenada is one example. Charles, who arrived in September, is studying international communication at Communication University of China.
"I chose China because of the attractive scholarship package offered to international students," she said. "The quality of education is also impressive."
But a survey by the Center for China and Globalization, a Beijing think tank, shows that international students make up less than 1 percent of the students at Chinese colleges and universities.
Chen Zhiwen, chief editor of eol.cn, China's largest education portal, said African and Oceanian students' interest in China began late, leading to an apparent increase in students from the two regions coming to study in the country in recent years.
"On the other hand, the number of students from the Americas, especially from the US, has continued to grow for quite a few years."
Zhang Beixi contributed to this story.